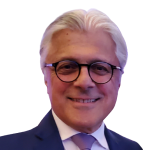 Mansour Aaron Karimzadeh brings a wealth of experience to his leadership role at SCIL, having spent over 25 years in the industry. He has extensive knowledge in payment and transaction processing systems in financial institutions, as well as expertise in creating new business opportunities and driving demand for emerging products and technologies.
He has played a key role in implementing several large-scale card and payment processing projects internationally, with a particular focus on EMV systems, mobile transactions, card-not-present payments, security, fraud, quantum computer threats, distributed decentralized systems.
Mansour has completed projects in the UK, Canada, USA, Latin America, Middle East and Australia. He has also served as a board member of Global Platform and as the Chair of its Marketing Center. Prior to his current role, he led a smart card consultancy and software company that was acquired by ACI Worldwide, where he later held positions as VP of Operations and Director of Smart Cards Unit. He served on the Steering Committee of the US Payments Forum and co-chairs its Communications and Education working group.

Cathy Lawton is an accomplished payments professional with specialist experience in electronic payment industry. Throughout her career, including her 12+ years as a Senior Vice President at JPMorganChase, she has demonstrated expertise in leading the design and implementation of advanced electronic payment systems fully-integrated into the retail banking sector. Among her notable achievements are the successful roll-out of the first fully integrated Mondex smart card system, the deployment of debit card systems, and the development of online banking applications.

Jan Dart has extensive expertise in payments systems, payments architectures, payment processing, development and delivery of payment products and services, business development, mobile banking payments strategy, and managing large-scale project deployments.
He serves as an advisor on product strategy, development, and deployment, with a specific focus on EMV and mobile NFC products, and the growth of these markets. Prior to this, he led a smart card consultancy and software company that was acquired by ACI Worldwide, where he later held the position of VP of Operations and Director of Smart Cards Unit.

Fred is an experienced professional who specializes in utilizing cutting-edge technologies to deliver optimal solutions. He has a proven track record in designing, developing, and implementing payment processing systems for financial institutions, mobile payment solutions, and distributed internet applications.
He has a wealth of experience in implementing high-throughput e-commerce web-based applications, which demonstrate his ability to deliver high-performance solutions. Fred's expertise and experience in the payments and e-commerce space make him a valuable asset to any organization looking to improve their payment systems and processes.

Payment industry subject matter expert who understands the ecosystem and customer life cycle for issuers to acquirers and is proficient in all low value and bank to bank payment processing technology that covers authorization through to clearing and settlement; recent specializations and work includes: switching, EMV smart cards and mobile payment solutions deployment. Fluent in English, French, and Arabic.

Mary Blair is a highly skilled product development consultant with over 25 years of experience in the payment card industry, financial services, and telecommunications. Her clients consider her a leading expert in emerging payment technologies, and she is known for her ability to deliver creative and practical solutions that drive results. With her deep understanding of transaction processing and banking, she excels at matching client needs with appropriate technologies and delivering cost-effective solutions for complex problems.
Mary has a proven track record of successfully strategizing the launch of new card and payment products, from business case modeling to project planning and deployment. Her expertise in the payment industry encompasses both the issuance and acceptance of debit, credit, and prepaid payments, as well as contact and contactless chip technologies, EMV migration, wireless POS technologies, and vendor relationship management. Her experience in building partnerships and securing contractual agreements among multiple organizations is particularly valuable.
Mary has a wealth of experience in implementing and deploying contact and contactless Smart Card product solutions in Canada and the USA, and has consulted on a variety of global payment projects. Throughout her career, she has held key positions with major Financial Institutions and has worked with a wide range of clients.